Not exactly a bardrink....but it's close.....

Just got back from the liquor store. I bought a bottle of Captain Morgan Spiced Rum and a bottle of Kahlua. Bonus with the Kahlua. It came in this tin that lights up. *laugh* You can't see the lights that well in the picture but trust me, it's neat.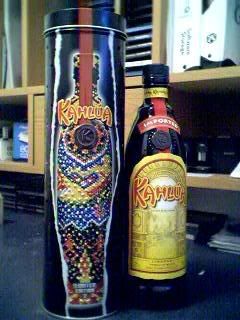 If the bottle is in the can you can't see the lights. It's also all textured and bumpy where the "beads" are. I'm impressed to see a novelty here (I'm in Utah). Usually they don't have the bonus packages - at least none that I've seen. You know, the ones that will come with a shot glass or martini glass. Or tins like this. I remember the first time I went to Vegas and played in the grocery store with the alcohol. I had so much fun. I was like a kid in a candy store!